Robotics Engineering Courses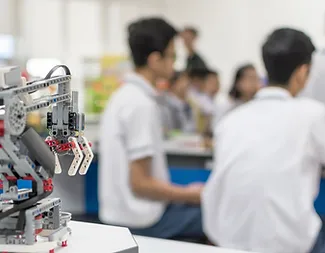 Robotics Courses in Dubai with ARDUINO
The ROBOTICS course offers a unique opportunity for kids between the ages of 6 to 15 to dive into the world of robotics technology. Through robotics classes that range from basics to advanced levels, students apply creativity and STEM (Science, Technology, Engineering, Math) concepts in an engaging setting. The course starts by introducing what is robotics: simply definition of robotics is the study of how to create and use robots, which are machines designed to perform tasks either autonomously or with human intervention.
In this interactive environment, students learn to program, design, and construct their own robots using ARDUINO. They are initially introduced to STEM concepts that are relevant to the field of robotics, as well as to different types of robots. This foundational knowledge enables them to engage in hands-on learning experiences, including coding, testing, running, and debugging their robotic creations.
Though not part of the general school syllabus, this ROBOTICS course serves as an excellent supplemental educational experience. It's designed to foster curiosity and provide a structured yet adaptive and methodical approach to learning the subject matter. Overall, this course aims to enrich students' understanding and skills in robotics, setting them on a path toward more advanced study and potential future careers in this exciting field.
Reviews
Our Happy students?
Samiah Khurana
2022-11-23
i do math and english and classes here help me improve
Math and science is good and MR Ahmed is very nice 👍
Amazing place for Maths and science!They have helped me improve my studies and grades. Thank you improve me!
Karuna is currently my English Literature teacher , She is very helpful and Kind , Helped me in my school assessments which I am confident I will do well in thanks to her knowledge of things like context and alternative interpretations.
I do maths and science tuition and I really like how all the teachers provide me with notes and practice questions which really help me understand and improve in topics. Everything I learn during the tuition I am clear with. I do not hesitate to ask any of my doubts and I really like the learning environment over here. Thank you.
Armaan sajnani
2022-09-15
I do math and economics at this institute and they have helped me improve a lot in many areas of my work … the teachers are very helpful and kind and have a different connection with the students which help me learn on another level would recommend this to everyone from age 3 to 18
Karine Mansour
2022-07-28
Love how unique and beautiful this place is. Amazing people that one can learn a lot from. Highly recommended.
We have absolutely been very fortunate to be a part of ImproveMe. Our huge thanks specifically go to Jason for being a great tutor and mentor to our son. You are doing great, please keep-up your high quality. Kind regards, Ozel Family